We're Not Your Ordinary Century 21
BE3 stands for BE Empowered. BE Educated. BE Encouraged. As your business partner, that's our job. Our job is to support you in every aspect of the business. You have goals, and it's our job as your broker and partner to help you hit them. We started this brokerage with the goal of putting our traditional brokerage model "out of business". We wanted to create a brokerage model that if done by someone else, would take our traditional model down. But, then we asked ourselves, "If someone else could put us out business, why not do it to ourselves?" The result: Century 21 BE3. With us, you get to leverage the power, tools, and brand awareness that comes with the Century 21 name, while getting the financial split, and freedom that typically comes from an independent brokerage. With us, you can have your cake, and eat it too!
Everything You Need To Crush It.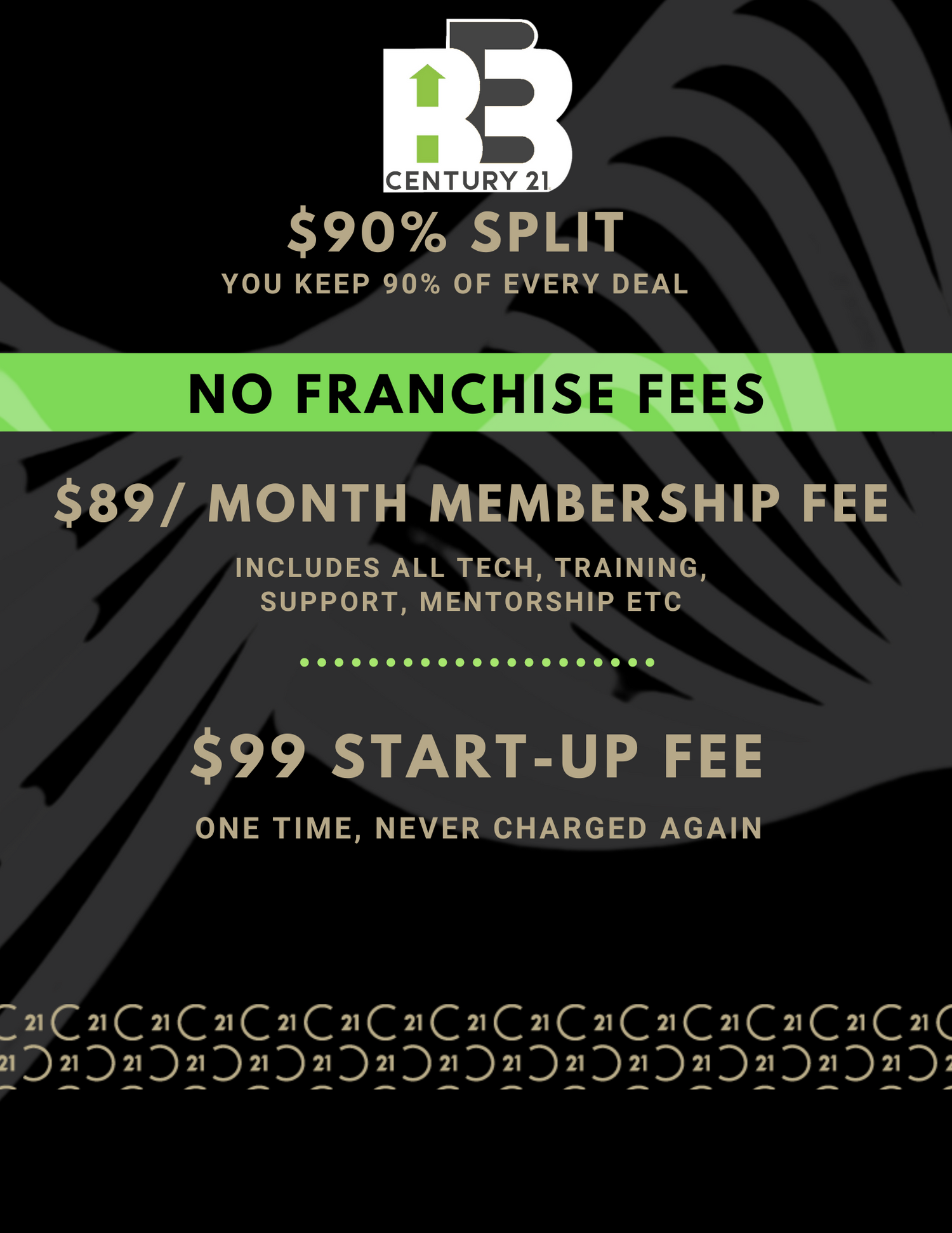 A Transparent Comp Plan
This is a partnership. We have a role to play and you have a role to play. But we know how hard our agents work on every transaction. Which is why they get to keep 90% of the money. To learn more about our comp strucuture in your local market, click the button below.
Explore Split Structure
Stats That Matter (to us)
And counting...

It has been an honor to serve Florida for 30+ years and we look forward to doing it for another 30 and beyond. Are you ready to go on this journey with us?

And growing...

When we hear that number out loud, it blows our minds. We have helped over 60,000 people buy and sell a home. Join us on our mission to help anotehr 60,000!

Unicorn status

Our agents have perfomed over $1.2 billion in sales for the second consecutive year. They have helped solidify us as a powerhouse. Are you ready to join the best?

And # 12 in the US

We have grown to be the top Century 21 in Florida ( by over double the next closest one) and are currently ranked as the 12th largest in the US. Don't join any company, join the best.

And families...

When an agent selects to partner with us, we take that seriously. It's not just 600+ agents, it's 600+ families, that count on us. Together we are one big family. A force to be reckoned with. Ready to join?

And this is our favorite stat

This is the award we care the most about. Because 30 years ago, we didn't set out to follow a standard, we set out to create the standard. We wanted to build a family first brokerage with scale.
F.A.Q's
What is your split structure?

90% | No Franchise fees. So a true 90% split. To learn more about the full comp model in your local market, click here.
Where is your office?

We are cloud based. We do have 1 east coast hub office in Miami Florida. But most of our agents enjoy our no office model where they can work from anywhere at any time.
Do you hire part time agents?

Yes. While a majority of our agents are full time, we certainly have part time agents. It just takes a specific strategey. The fact that our training and tools can be accessed from anywhere at any time also helps!
How Much Is The Franchise Fee?

ZERO. ZILCH.NADA. We think you get the idea. We pay it on our side. You get a true 90% split. You deserve it.
Do you offer leads?

We generate 1-2k leads a month from a variety of sources. Those leads are followed up with internally and the 1-2% that are actually qualified are then routed to our agents. Just note, we are here to supplement your own lead gen efforts but we're not here to replace them.
Do you offer a mentor?

Yes. Each of our regions has a Regional President who responsible to mentor, train and coach the agents in their region. This way you get all of the support you need when you need it.
What's your current agent production look like?

Our average productive agent is doing a deal a month. This is about 4x the industry average. How? Simple. We know how to train and develop our agents.
Do you help with marketing?

Yes! In so many ways! For starters, every single day we produce branded social content for you. We also have a marketing hub available to you 24/7 that includes hundreds of branded graphics and videos. But, the best tool is our A.I. backed automated content creation tool. At the click of a button, you can create any piece of content on any topic. You can also use our automated tools to create you listing descriptions and agen bio. Personalized campaigns have been designed in Moxi too. Marketing is a button away.
Do I have to join the MLS?

Yes. Joining your local board and getting your MLS ID is part of the process.
How do I schedule a call?
I have a different question, how do I ask it?